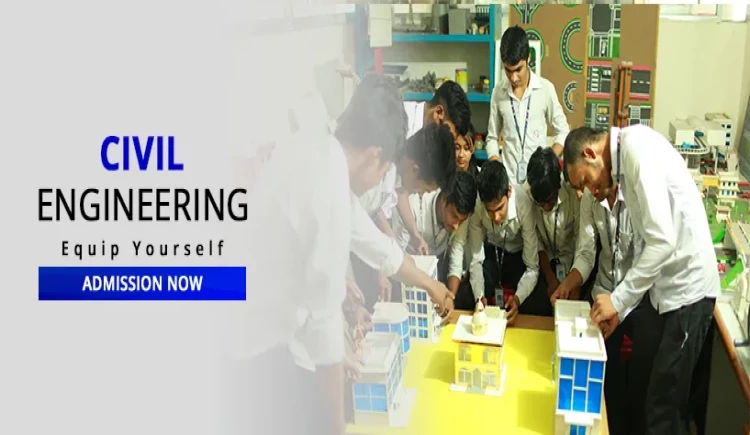 Equip Yourself
Diploma in Civil Engineering
In a roofless open world, people once hid their heads and took refuge in caves. From that day mankind started to think about its living facilities, comforts, strategies to survive in adverse conditions etc. and thus a new science of civil engineering was born. How much civil engineering has progressed with new methods and techniques can be understood by looking at the artistic and aesthetic design buildings of extraordinary beauty touching the sky abroad. Houses, shopping malls, office courts, roads, bridges, culverts, pools, in short, civil engineering is at the heart of modern urban civilization. As a result, the subject of civil engineering has created a very important appeal to parents and students. BCI Engineering Institute has developed civil engineering labs with various equipments including multi-purpose drawing table- which helps the students to establish themselves as competent civil engineers which is why BCI Engineering Institute is the best polytechnic institute in Dhaka.
Key areas of work in civil engineering include:
Structural Engineering: Involves the analysis, design, and construction of various structures such as buildings, bridges, dams, and towers to ensure they are safe, stable, and capable of withstanding loads and environmental forces.
Geotechnical Engineering: Focuses on understanding the behavior of soil and rock materials and its application in foundation design, slope stability analysis, and underground construction.
Transportation Engineering: Deals with the planning, design, and operation of transportation systems, including roads, highways, railways, airports, and mass transit networks.
Water Resources Engineering: Focuses on the management and development of water resources, including the design of water supply and distribution systems, wastewater treatment plants, and flood control measures.
Environmental Engineering: Concerned with protecting and enhancing the natural environment by designing systems to manage waste, air and water pollution, and sustainable infrastructure solutions.
Construction Engineering: Involves managing construction projects, including scheduling, cost estimation, and quality control, to ensure successful project completion.
Coastal Engineering: Focuses on managing and protecting coastal areas from erosion, tidal forces, and storm surges through the design of coastal structures and beach nourishment.
Urban Planning: Involves the development and implementation of plans for the optimal use of land, zoning regulations, and the overall improvement of urban areas.
Civil engineers work in various settings, including government agencies, consulting firms, construction companies, and research institutions. Their work is essential for creating and maintaining the infrastructure that supports our daily lives, such as roads, bridges, buildings, and water supply systems. They also play a crucial role in addressing sustainability and environmental challenges to create a more resilient and sustainable future.
COURSE DURATION
Total Duration 4 Years
Divided in 8 Semesters
SEAT
Diploma in Civil Engineering 120 seats only.

Features :
An innumerous number of students passed from BCI are living standard lives for service & study in Europe, America, Australia, South African countries worldwide. Students remain in this country also serving with local & multinational companies with reputation besides study in B.Sc. Engineering in various universities.
 Success :
The success of a civil engineer can be measured and evaluated in various ways, and it depends on individual goals, achievements, and contributions to the field of civil engineering. Here are some factors that can be considered indicators of success for civil engineers:
Professional Accomplishments: The success of a civil engineer can be gauged by their professional achievements, such as leading and successfully completing significant infrastructure projects, receiving recognition or awards for their work, and making innovative contributions to the field.

Education and Credentials: Attaining higher education, pursuing advanced degrees (e.g., master's or Ph.D.), and obtaining relevant certifications can showcase a civil engineer's dedication to continuous learning and professional growth.

Experience and Expertise: Gaining diverse and valuable experience in various civil engineering disciplines can contribute to a successful career. Having expertise in a specific area can make a civil engineer highly sought after for specialized projects.

Project Management Skills: Successful civil engineers often excel in project management, effectively overseeing budgets, schedules, and resources to ensure the timely and cost-effective completion of projects.

Problem-Solving Abilities: Being adept at solving complex engineering challenges and addressing unexpected issues during project execution demonstrates a civil engineer's proficiency and adaptability.

Leadership and Teamwork: Effective leadership and the ability to work well with multidisciplinary teams are essential traits for a successful civil engineer, particularly in managing and coordinating large-scale projects.

Client Satisfaction: Achieving high levels of client satisfaction and delivering projects that meet or exceed client expectations can be a strong indicator of a civil engineer's success.

Ethics and Professionalism: Upholding ethical standards and maintaining a professional demeanor in all aspects of work is crucial for a successful civil engineer.

Contributions to the Profession: Active involvement in professional organizations, presenting research papers, publishing articles, and sharing knowledge through mentorship can contribute to a civil engineer's success in the industry.

Innovation and Sustainability: Incorporating innovative and sustainable practices in projects demonstrates a forward-thinking approach and long-term vision, contributing to the success of a civil engineer's career.
Admission Qualification:
Course Duration: 4 years divided in 8 semesters.

( Admission, Registration, Examination, Certificate issue etc. all procedure controlled by Technical Education Board)

Class Schedule: Except weekend holidays & public holidays, pursuant to rules of Technical  Education Board classes taken as per routine of Institute.

Seat: Civil Engineering 100 seats, that students admitted & considering 20% of drop out 48 more seat is available for admission.
Admission Requirement :
At least 2.00 GPA in SSC or Equivalent Examination any group since 2012 or after & also passed/failed students of HSC examination.
H.S.C (Science) students can take admission in the 3rd semester directly and H.S.C [Vocational (Science)] students can take admission in the 4th semester directly.



COURSE
INFORMATION
Payment :
One-time payable During Admission :
Admission Fee            :            6,000.00 Taka only
Admission Form         :              100.00 Taka only
Regi. & ID Card Fee    :            1,500.00 Taka only
Total Payable Amount:            7,600.00 Taka only
Cost details per semester :
Semester Fee + Tuition Fee : 15,000.00 Taka only
Mid Exam Fee                          : 1,000.00 Taka only
Transcript Fee                          : 200.00 Taka only
Total cost Per Semester: 16,200.00 Taka only
N.B. The final Exam Fee Will be added as per BTEB's Notice.
Lab Facilities :
IPS, UPS Backup facilities. All equipment is available. 100% practical Class. Visiting Outside.
Admission Session :
Admission going on session 2023-2024
N.B. The final Exam Fee Will be added as per BTEB's Notice.
ADMISSION
REQUIREMENT
At least 2.00 GPA in SSC or Equivalent Examination any group since 2013 or later & also passed/failed students of HSC examination.
H.S.C (Science) students can take admission in the 3rd semester directly and H.S.C [Vocational (Science)] students can take admission in the 4th semester directly.